Global Water Challenge is quickly responding to COVID-19 needs in the communities we serve. Water and sanitation are now, more than ever, critical health interventions and we are leveraging investment for our local partners who are mobilizing efforts against the virus.
Through our New World Program (NWP), GWC has provided emergency grants to support partners' response to the COVID-19 virus. Our partners are working tirelessly to provide personal protective equipment and sanitary supplies, install temporary handwashing stations and support national and international health information dissemination in their local communities. Below are stories from the field of what our NWP partners are doing for their local communities to combat COVID-19:
Women-Led Soap Making Ventures in Rwanda
In Rwandan communities like Kigali, where access to clean water and soap is limited, Global Grassroots is responding to protect vulnerable communities through NWP and women for water. Through their women-led venture teams, Global Grassroots is installing ten temporary handwashing stations near water points and distributing soap-making supplies to over 1,500 people. Additionally, each venture team will conduct hygiene training on handwashing and COVID-19 prevention to keep community members safe and healthy.
Disinfecting Populated Areas to Keep Communities Safe in Egypt
Qena, Egypt is a COVID-19 hotspot due to the nearby tourist attractions in Luxor, which leave local residents vulnerable to contracting the virus. In order to slow the spread of COVID-19, UNDP Egypt and their local partner the Egypt Network for Integrated Development (ENID), through NWP, are distributing personal protective equipment including gloves and medical facemasks as well as installing temporary handwashing facilities in communities. In addition, ENID is purchasing disinfecting sprayers to keep community members safe and disinfect more heavily populated areas in the community.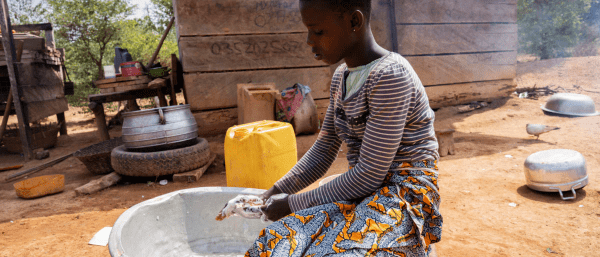 Emergency Handwashing Stations in Rwanda
Through NWP, Living Water International (LWI) is responding to the urgent request from the Rwandan Ministry of Health to help support their efforts to limit the transmission of COVID-19 in the country. In the District of Ruhango, LWI is establishing temporary handwashing stations and distributing soap and hand sanitizer. This will support the most vulnerable community members and help protect them from contracting COVID-19 and spreading it to others in the community.
Personal Protective Equipment in Georgia
The National Center for Disease Control (NCDC) of Georgia has alerted citizens to the growing threat of the global COVID-19 pandemic. Project communities are located in one of the country's "red zones" where movement has been restricted and stores, facilities and offices are in lock down. In response to the needs of the community in Marneuli and Bolnisi, NWP partner CENN is disseminating hygiene products and medical supplies to over 1,000 residents including hand sanitizer, antibacterial soap and medical facemasks. These efforts are being conducted in partnership with the Ministry of Health, Labor and Social Affairs and Red Cross. CENN is also working to print and disseminate over 2,000 COVID-19 prevention and mitigation materials, translated into local languages.
Additionally, GWC is raising funds for the COVID-19 response through our women for water platform. Women are at the center of the emergency response to COVID-19 as caregivers, healthcare workers and community organizers. Through women for water, GWC is helping partners globally deliver health, wellbeing and dignity by strengthening water access, hygiene and sanitation services during and post-pandemic.